Payment Options, Prices & Services
$170 capped fee

Includes: Full Dental Exam + Consult + any Xrays required*
+ Add $110 for professional Clean and polish
Future Discounts: our regular, returning patients automatically receive a discount on their check-ups, see "Check-Up: Regular Patients"
*Any x-rays (intraoral radiographs) taken at this appointment  are included in our capped fee. This usually involves taking two standard 'bite-wings', but there will be no additional surprise fees if we need to take more. Due to patient factors, it is not always possible or required to take x-rays and this will be assessed on a case-by-case basis.
Check-Up: Regular Patients
$100 capped fee 
Includes: Full Dental Exam + Consult + any Xrays required*
+ Add $110 for professional Clean and polish
*Any x-rays (intraoral radiographs) taken at this appointment  are included in our capped fee. This usually involves taking two standard 'bite-wings', but there will be no additional surprise fees if we need to take more. Due to patient factors, it is not always possible or required to take x-rays and this will be assessed on a case-by-case basis.
Existing patients who attend for regular checkups automatically receive a discount on their regular checkup.
Please note that if 2 or more years have passed since your last checkup, you will be charged as a New Patient check-up.
$110 
Having your teeth professionally cleaned is about more than a bright & shiny smile.
Getting your teeth cleaned at the dentist on a regular basis may be the most important way we help you prevent oral health problems.
During the professional clean, we will remove build up of plaque, food, calculus and stains from your teeth.
This will help maintain oral health, reduce inflammation and allow the dentist to check your teeth more easily.
A teeth clean is part of a routine preventive visit to our practice
Limited exam of a tooth (eg. Emergency exam)
This service is commonly required for patients who wish to focus on a single tooth, such as a painful or chipped tooth, usually in the lead-up to treatment in the same appointment.
Prices varies:
– usually $100 for a limited exam and x-ray
– or $50 if we do not require an x-ray (or already have one on file that is diagnostic)
Please note: Lengthy consults or additional x-rays may cost up to $170.
If you are concerned about a tooth, we can take a look and focus on just that part of your mouth. We will discuss your treatment options, and provide you with a quote for treatment. We are sometimes able to provide treatment on the same-day, please ask our friendly reception staff about this when booking.
$50 to $170
A consultation refers to a longer, in-depth discussion that falls outside a check-up appointment, or outside of a limited-exam appointment for dental emergencies.
Sometimes, a consult is required as a follow-up to a check-up appointment, such as or a more complex case, and may or may not incur a fee at the clinician's discretion.
The cost of a consultation can vary depending on the time required, but it does not exceed the cost of a full exam ($170).
For example, a new patient booking in for a denture consultation is treated as  a full exam and is capped at $170. This is different to simply asking us about dentures during an appointment, which may not incur a consult fee. 
The cost of a consultation will depend on the time required to gather information and reach a diagnosis, as well as to discuss your treatment options fully and to finalise a treatment plan.
Rest assured, we generally do not apply consult fees for 'quick questions' asked at your appointment. Instead, the fee aims to cover our time for longer face-to-face discussions. We will always aim to be upfront and transparent with consult fees – no one likes surprises!
White fillings (restorations)
Prices varies $200 to $520
Smaller fillings will cost less and be quicker to place than large, complex restorations.
We use the latest techniques, equipment and materials to ensure your restorations are long-lasting and blend naturally with your smile.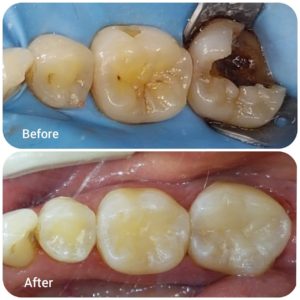 Prices varies, usually $1900
Crowns and veneers are made from very strong materials, and we use a 3D Scanner digital impression technology for most of our cases. 
A crown is a custom-made 'cap' that looks like a hard outer shell. It is usually made out of a strong, beautiful ceramic, and looks just like a tooth. Crowns are bonded into place over your teeth, and helps protect teeth that are damaged,  decayed or heavily filled. It is a long lasting restoration that is made to look beautiful and natural.
We also offer veneers for smile-makeovers which are a more conservative option suitable for healthier teeth. Veneers are thin, custom-made tooth-coloured shells that are bonded to the front surface of teeth. They are considered a cosmetic treatment, and mimic the appearance of natural teeth whilst improving their colour, shape, size or length.
We also offer gold crowns for both front and back teeth!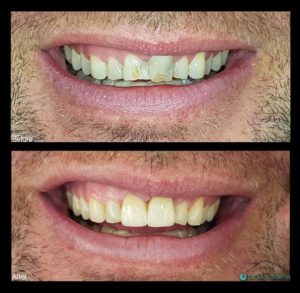 Tooth removal (extraction)
Prices varies $210 to $300
While we prefer to save teeth wherever possible, some teeth require removal, especially if they are badly infected.
Price varies depending on the complexity of the extraction required. Simple extractions will cost less, and a complex sectional removal of a tooth will cost up to $300.
Your back molars are multi-rooted teeth, and for this reason are more likely to cost more to remove. Our aim is to help make the treatment for your as quick and comfortable as possible.
Prices varies, $1200 to $1800.
Price varies depending on case. 
A root canal treatment allows us to save a tooth that painful or infected. The infection inside the tooth is drained and cleaned out, and a root filling is placed to seal the tooth for protection.
Complex cases may require referral to an endodontist (root canal specialist).
Teeth Whitening (Take-Home Kit)
$300, results within 5-10 nights. 
Whiten your teeth from the convenience of your home. It's quick, easy, safe and comfortable, and you can achieve your brighter, whiter smile in just 5-10 nights.
The whiteness is very stable and does not need to be repeated! That being said, in order to keep your teeth at their whitest, we would recommend whitening your teeth a couple of nights every year.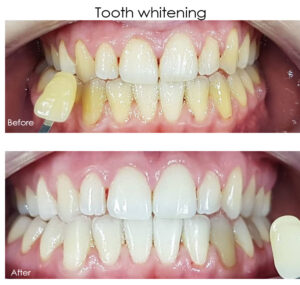 You will receive:
Whitening trays: Comfortable, high quality trays made custom for your teeth (upper and lower). These can last many years.
Whitening Gel: a gentle, effective gel of 10-11% Carbamide Peroxide. You will be provided with a generous amount of whitening gel – enough for approximately 20-30 nights of treatment (top and bottom teeth)!
From $155 for dual-layer for superior protection.
(Team colours and Special colours cost extra)
A custom mouthguard provides better protection for your teeth and helps you communicate and breathe more easily. We have many colours you can choose from.
Unlike an over-the-counter mouthguard, our custom mouthguards are tailored to fit your teeth perfectly, and use an advanced material to withstand high-impact activities
Dentures (via Shyne Denture Clinic)
POA
Dentures are an affordable way to restore your smile and replace multiple teeth.
We provide denture consults and can provide any treatment (Such as fillings or extractions) that are required before your denture is made.
We will then refer you to Shyne Denture Clinic (Rae St, Colac) where your partial or full denture will be custom made. For denture repairs, we recommend contacting Shyne Denture clinic directly.
Nightguard for grinding (occlusal splint)
$950
Very thin, very comfortable! 
A nightguard helps protect your teeth if you are grinding at night. If you have noticed worn down teeth, you may be grinding your teeth without even realising it. A nightguard helps protect your teeth from further chipping, damage, wear and sensitivity.
Ask us today. Sometimes, we may advise you to see a GP first to rule out a health condition called sleep apnoea.
POA, prices are quoted on a case-by-0case basis and are based on the average range of Victorian dental practices.
For patients with periodontal disease (commonly called 'gum disease'), we offer periodontal debridement (deep cleaning and root planing) and ongoing support to ensure our patients achieve a high level of success from periodontal therapy.
While the general guideline is to have a professional clean every six months, this varies depending on your needs and the state of your teeth and gums, and people with active gum disease usually require a periodontal debridement every three months to help stabilise periodontal disease.