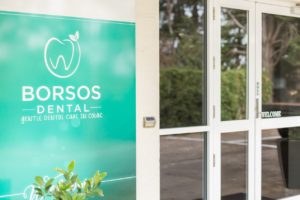 By attending an appointment, you agree to our terms and conditions:
Regarding services and bookings:
Dr Julia Borsos (trading name Borsos Dental) is a limited service. Services provided include:

check up
professional clean
stain removal and polish
fluoride treatment
oral hygiene advice
white fillings
extractions
full dentures
partial dentures
Whitening (In-office treatment, take-home kits bleaching gels)
Root canal treatment
Crowns
Mouthguards
Splints

Services currently not provided include:
Orthodontic services may be provided at our discretion – we are constantly reviewing this due to disruptions associated with COVID-19.
All bookings are the client's responsibility.
Appointments are simply an invitation to attend. They do not represent any entitlement or contract. Appointments may be cancelled/disregarded without explanation, compensation or notice.
Payment of invoices is required on the day and is the responsibility of the patient.
Administrative fee of $22 applies if not settling the account on the day.
All services require an appointment.
No recall/ reminder services are offered. It is the patient's responsibility to book follow-up/review appointments if required.
Services begin at the start of the appointment, and finish at the end of the appointment.
Waiting times: hopefully are not too long, but may be unpredictable.
Unpaid accounts may be sent for collection after 7 days without further explanation or notice.
No over the phone advice or service is offered.
Regarding electronic services and payment:
Payment is required by patients at the time of the visit.
We accept a wide range of payment methods, including Cash, EFTPOS, Private Health Insurance, Medicare CDBS (bulk billed), Zip Pay and Zip Money.
EFTPOS and HICAPS may apply; should the technology fail on the day, for whatever reason, it is the client's responsibility to pay on the day and chase any claims with the receipt provided.
Medicare CDBS (Child Dental Benefit Schedule): at our clinic, CDBS rates apply where possible for all patients 17 and under, regardless of eligibility. Medicare itemisation is provided to assist with claims from Medicare. We expect our itemisation to be compliant with Medicare descriptors, but we do not guarantee this, and we do not offer refund for any failed or disputed claims. Not all services are funded by Medicare, and our fees may apply for item numbers not covered. We offer electronic claiming, however the Medicare software is sometimes offline/unavailable, and in suchs cases where the technology fails for any reason, strictly upfront payment on the day is required, no exceptions; invoice/receipt provided to be taken to Medicare office. For patients eligible for CDBS, it is the responsibility of the parent/guardian/guarantor to check their balance before the appointment by calling Medicare general enquiries on 132 011.
Our practice accepts Zip Pay and Zip Money Please note that it is the patient's responsibility to apply for Zip and to read Zip's terms and conditions.
We are not offering to chase administrative problems with CDBS balances, health insurance quotes, Zip payment issues or card swipe failures of any cause.
It is the patient's responsibility to pay for dental services rendered at the time of the appointment.
Regarding records:
Photos are often routinely taken by the dental practitioner. If you wish to opt out, please notify the dental practitioner at the beginning of each visit.
To request for your records to be transferred to another practice, please e-mail us at [email protected]
For administrative services, including providing or requesting records (or parts of): an upfront administrative fee of $44 (including GST) may apply.
Regarding treatment plans:
Treatment plans are subject to findings through the course of treatment, and are an estimation only.
Treatment plans are valid for 12 months from the date of issue. After this time, a new examination is required (full checkup, or limited exam of a specific tooth) to confirm diagnosis.
Any complications such as post-operative sensitivity or pain may require further treatment and incur additional costs.
Regarding checkups (comprehensive or periodic exams):
Check-ups, including comprehensive and periodic exams, are charged a capped fee and include a full exam and any intra-oral x-rays that may be required at this appointment. Sometimes, usually due to patient factors, it is not possible to take x-rays at this appointment, or a patient may not require an intraoral x-ray.
Existing patients who attend for regular checkups automatically receive a generous discount on their regular checkup. If 2 or more years have passed since your last checkup, you will be charged as a New Patient check-up.
Regarding treatment:
All patients are advised to make an appointment for a full check-up (including xrays where advised), and to attend regular 6 monthly visits.
Prior to a professional clean, all patients are advised to attend for a full comprehensive exam and xrays to screen for oral pathology. Please note we may refuse to perform a professional clean for patients who have not had a comprehensive exam and xrays at our clinic.
We reserve the right to refuse treatment for patients who decline diagnostic services, including examinations, xrays and cleans, particularly where these are deemed necessary by the dentist for diagnostic purposes.
Treatment complications are unfortunate but may occur, and may require further treatment and additional costs.
Treatment complications for extractions may include dry socket, infection, delayed healing and pain. Unfortunately, dry sockets are all too common, especially when post-op instructions are not followed. We offer treatment that may assist with healing and provide some pain relief; fees may apply.
Treatment complications for fillings include: post op sensitivity, jaw discomfort, 'high' filling, future pain requiring further treatment (eg. Root canal therapy or extraction). After a filling: occasionally fillings require adjustment, this is offered free of charge. Any other concerns will require a consultation and fees apply.
For concerns following treatment, please call us during business hours, or send an SMS.
Anti-bullying and anti-harrassment policy:
Our anti-bullying and anti-harassment policy applies: we always strive to establish a friendly, respectful atmosphere. If this fails, the relationship will be terminated at the earliest opportunity.
We reserve the right to request patients who are rude (to any of the staff) to source another service provider.
Cancellation policy:
Cancellation / No Show fee: Our cancellation policy requires 24 hours' notice for cancellation (including rescheduling) of an appointment. Should the patient cancel without the required notice period, it is at the owner's discretion as to whether a cancellation fee is to be charged. A cancellation fee applies for same-day appointment cancellations, or for patients who fail to attend an appointment. The cancellation fee may be up to $100.
We reserve the right to request patients who continually cancel appointments at short notice, fail to attend, or arrive late, to source another service provider.